This is the 2nd time I've hosted Pat for a 3 day Carbine Operator's Course and my 2nd time taking the course.
First time I trained with Pat Rogers was in May of 2007. If you want my opinion of Pat as an instructor and his training curriculum, I am working on bringing Pat back to Pueblo West in May of 2009.
In 2008 I had planned on changing up a few things (guns and gear related). I don't change things for the sake of change, I change things based on performance. If it helps me be faster, more accurate, more efficient, etc. then I will embrace change. If it looks cool but doesn't help me perform better, I don't waste my time with it.
The three main things that I wanted to try in 2008 was:
1) Run my guns (at work, in training, and competition) for a complete year without a vertical foregrip. The reason for this is I have been shooting run and gun competition with out a vertical foregrip and I have been using a vertical foregrip on my work gun. I wanted to see if there was an advantage to not using a vertical foregrip at CQB distances.
2) Replace the Glock 9mm's that I have been using for close to a decade with the S&W M&P 9mm. I have shot the M&P's and I prefer the Glock, but I felt in order to give the M&P a fair shake, I needed to run it for a year (at work, training classes, competition, etc).
3) Try running a lower profile rig for those times when I don't need my Eagle CIRAS or don't have time to don it (ie. robbery / shooting / or other high in progress priority call). This may not get me any extra points in the "Chicks Dig It" category, but I wanted something easy to don / doff, that was fairly light weight, low profile, minimalist, comfortable, and incorporated ease of mobility into the design.
For the last several years at work and training I had been carrying 14.5" M4 carbine's with LaRue 7.0 rail systems. This worked fine for me when running a vertical foregrip. Due to the manner in which I like to hold my hand on the forend when not using a vertical foregrip, I found that the 7.0 was too short.
So in 2008 I had planned on going to a 16" carbine with a mid-length gas system and a LaRue 9.0 rail system. This would give me the real estate needed to hold the handguard in the manner in which I prefer (thumb over the 12 o'clock rail, index finger on the 9 o'clock rail pointed in the same direction as the muzzle, and my other three fingers wrapped around the bottom of the handguard...illustrated in the pic below, index finger is straight along the 9 o'clock rail pointing the same direction as the muzzle):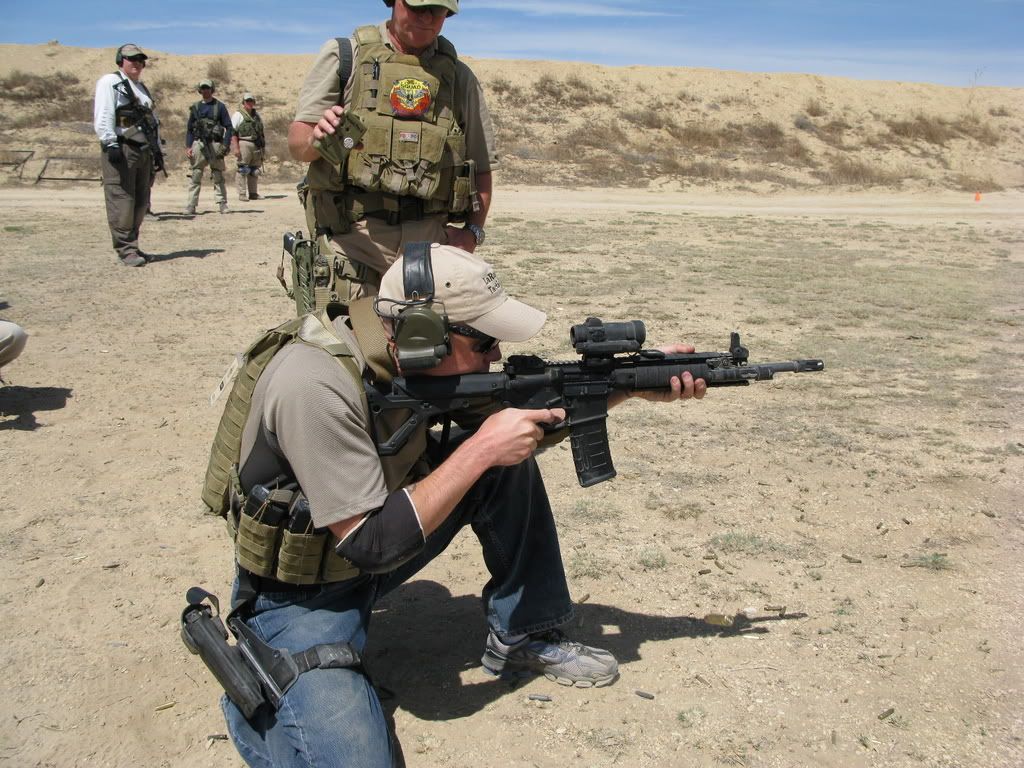 The 16" mid-length upper was finished in December, the same month that I ordered the lower for this project. By mid-March I hadn't received the lower from the vendor that I ordered it from, so I ordered a Noveske N4 low profile carbine (I finally received the lower for the 16" mid-length in April).

I ordered two S&W M&P 9mm's in December, I was going to use one in class and another student was going to use the other. As of this date I still haven't received the M&P's.
My plans for my 2008 test bed products were off to a slow start as we entered the 2nd quarter of the year I just getting my carbine on line, and hadn't heard any word on the pistols.
Several months ago I contacted Mike Dizmuke (Diz) owner / operator of U/W Gear Waxhaw, NC. Diz and I have several long on line discussions on various message boards over the years. My idea was to have a custom rig similar to the Tactical Tailor 2 piece MAV with X-Harness and Hydro pouch that I used several years ago. Diz and I spec'ed out two rigs. One black for work, and a very similar rig in Coyote Brown for training (with the training rig we omitted the radio pouch which was not needed for training).

So I ran the following gear the entire class (with the exception of running Pat's BAE RBAV vest for Training Day 2).

Rifle - Noveske N4 low profile 14.5" carbine with permanently attached Surfire 556k flash hider. Blue Force Gear padded VCAS sling, Surefire Scout light in LaRue Tactical mount, Aimpoint M4S in a LaRue Tactical mount, Magpul XT rail panels, Magpul MIAD pistol grip, Magpul UBR buttstock, and Magpul P-MAGs.
Pistol - Because I have been waiting on the S&W M&P 9mm's, I ran the same pistol that I run for my dedicated SWAT pistol (and the same set up that I ran for Pat's May 2007 class). Glock 17, Heinie Slant Pro sights, Surefire x300 light, in a modified Safariland 6004 holster.
Gear - I ran the custom chest rig that Diz made for me (pics below) on Training Day 1 and Training Day 3. Pat and I are the same size and he asked me if I would be interested in wearing BAE Systems' new RBAV to get a broad base of feedback. So for the entire day of Training Day 2, I wore Pat's RBAV with soft armor and plates.
Diz's Custom Rig: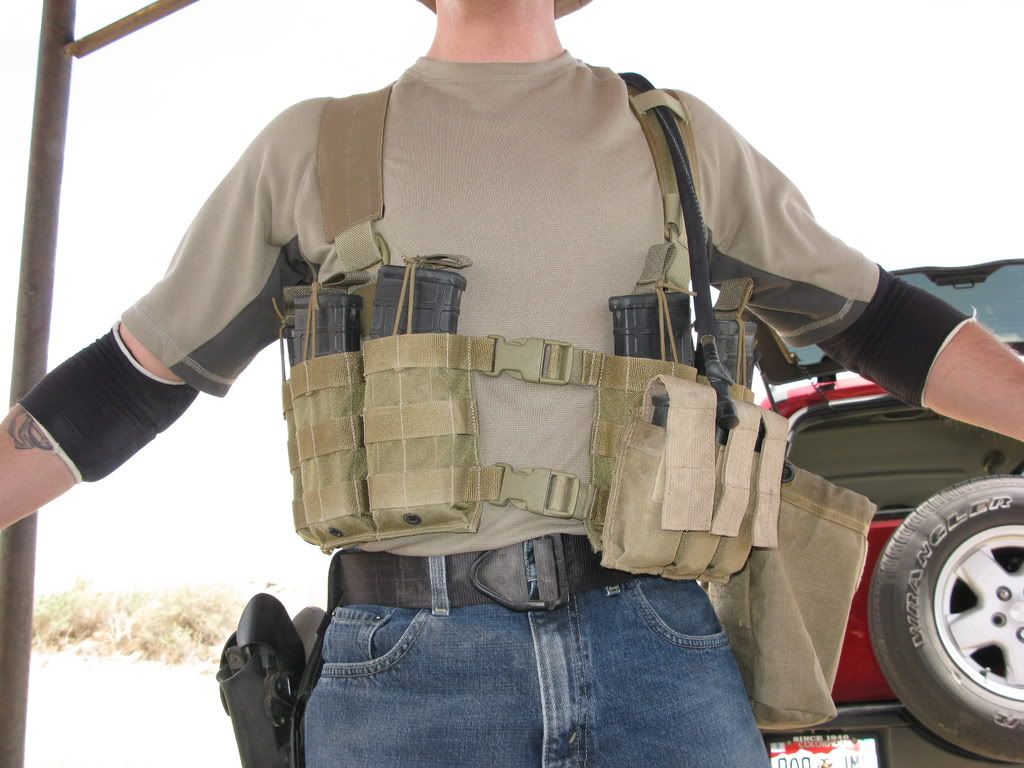 Training Day 1 - Decent sized class, (24 students including me), Pat, and Assistant Instructor Mike H.
High temp for the day was approximately 80 degrees.
For a frame of reference we had (2) Purple Heart recipients, a Doctor, a Judge, a Scientist, a Federal Agent, a Tattoo Artist, an Engineer or two, a college student, a part time custom gear manufacturer, an unemployed dude, a Contractor, a Detective / SWAT cop, an Air Force LtCol, a H&K Law Enforcement Rep, and some other gainfully employed folks.
Training Day 1 started off with sign in, intros, and briefing. Pat then started off the day with a lecture covering several different subjects, all relative to what we would be doing over the next 3 days.
After the lecture we headed to the 50 yard line to ensure everyone had a proper zero on their rifle.
On the line, Pat had 3 LWRC rifles lent out to students, another student had a personally owned 10.5" LWRC carbine, a Sig 556 (with Leupold CQT), Jerod (H&K rep) used a MP5 on TD1 and a MP7 (4.6x30) on TD2, an AK74, a 14.5" H&K 416 (and Pat's 10.5" H&K 416 when he was on the line), and several different AR15 based platforms.
I was using my Aimpoint 3x Magnifier in a LaRue Tactical Flip mount to zero my rifle. I was wearing a boonie hat and the arms of my Oakley glasses interfer with the hat about 1/2" behind my ears, which can get painful after wearing the hat / Oakleys for a short period of time. So I wore a pair of Nike sunglasses that have shorter arms and the arms curve behind the ear and don't interfere with the boonie hat.
While zeroing I could see 2 dots through the magnifier. This isn't the first time I have learned the lessons of quality eyewear first hand. When I started using the Oakley glasses, I no longer saw two separate dots through the magnifier.
In other classes I have been to in the past, the instructor has had all the students on line at the same time. Pat runs his classes in two relays. Half the class is on the line shooting, the other half of the class is behind the line hydrating, urinating (which goes hand in hand with hydrating), jamming mags, and addressing any admin issues they may have. A 2 relay system makes the class run much smoother.
Through out the day we covered offset, trigger reset, engagement (high, pairs, failure, and NSR), intermediate shooting positions, reloads, rapid possition assumption, malfunction drills, and Modified Navy Qual.

Due to the various different levels of shooting skills encountered in an open enrollment class, things start off slow and the pace pics up as the class continues.
But something I noticed is that everyone was on the same sheet of music in a very short period of time.
I noticed that many of the shooter were getting sluggish after lunch. Assistant Instructor Mike Hueser addressed this problem as many of the shooters were not properly hydrating.
Locally, this spring has been unseasonably cool and the week prior to the class high temps fluctuated between the 40's - 60's. I think the 80 degree weather caught some of the Colorado guys off guard. And I think the altitude (5,000') combined with the heat caught some of the guys from out of state off guard.
Mike H. drilled the importance of staying hydrated throughout the class.
High temp for the day was approximately 85 degrees.
On this day I wore Pat's BAE Systems RBAV. I had to take care of some Admin / Host issues near the parking area, and was about 75 yards behind the rest of the class heading down to hang targets.
I ran the distance to catch up with the rest of the class. After I caught up, it dawned on me how light the RBAV was (containing both soft armor and hard armor plates).
Pat's BAE Systems RBAV that I wore on TD2: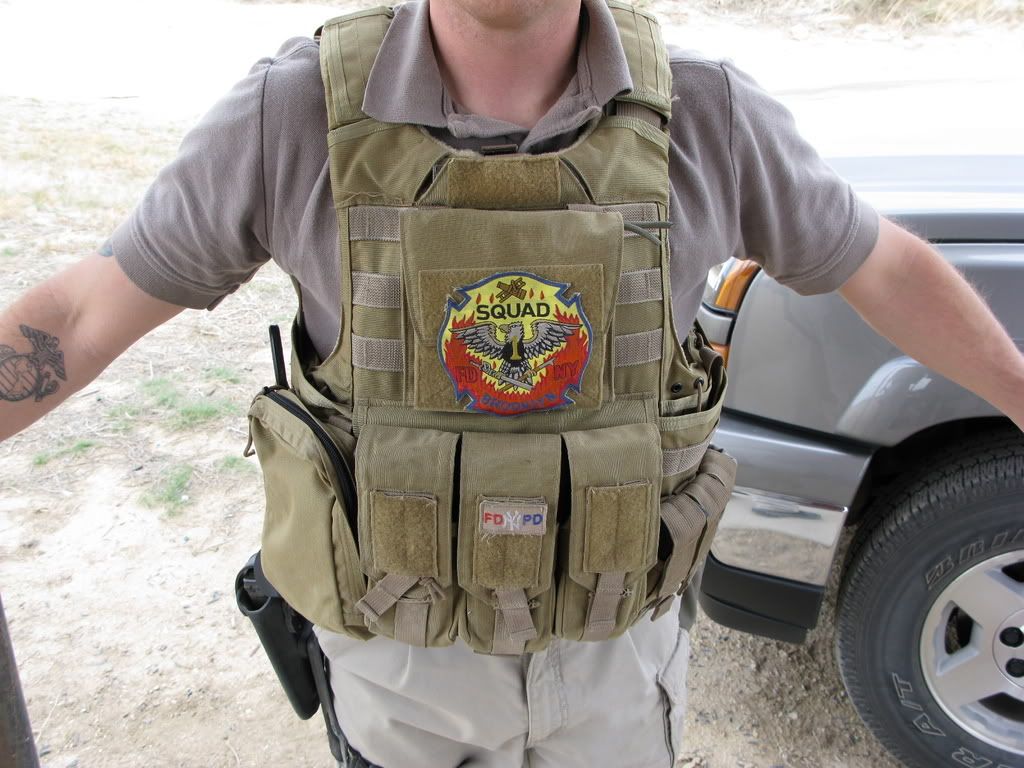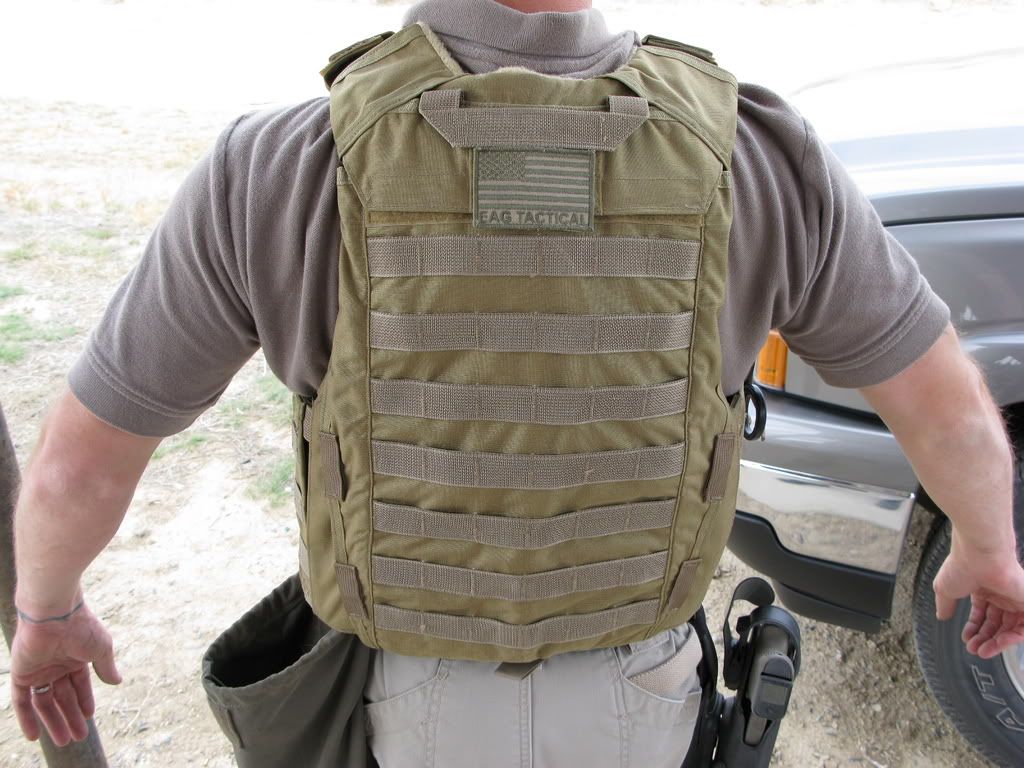 After hanging targets we headed back to the 50 yard line and re-confirmed zeros. After we reconfirmed zero's at 50 yards we moved onto transition to pistol, static turns, dynamic turns, shooting on the move, multiple target engagement, and Modified Navy Qualification.
The shooter next to me on line, Bob (a OIF vet and Purple Heart recipient) had his gun go down at the end of Training Day 1 or at the beginning of Training Day 2. After the first drill of the day, I lent my SBR to Bob. This is the same gun that I ran in Pat's 2007 Pueblo West class.
The SBR has a 11.5" Bravo Company Barrel in a LaRue Tactical Stealth upper (lower and bolt carrier group is LMT). The gun has run 100% since day 1. Bob ran the SBR for almost all of TD2 and the entire day of TD3, using Wolf ammo. The gun didn't have a single malfunction. I used this same gun in a slightly different configuration during Pat's 2007 Carbine Operator's Course: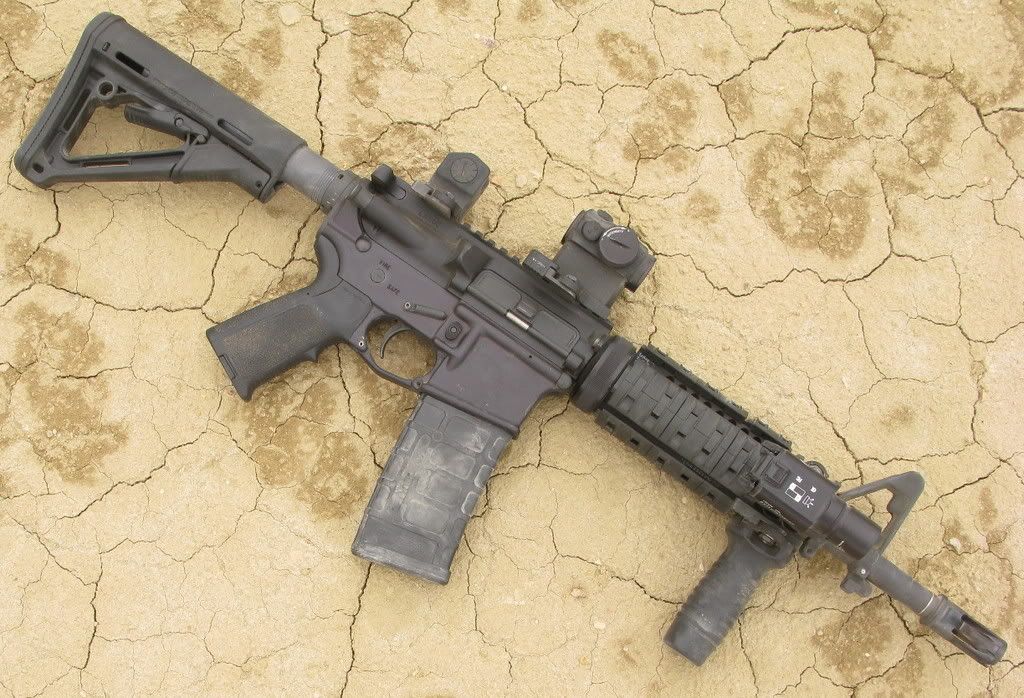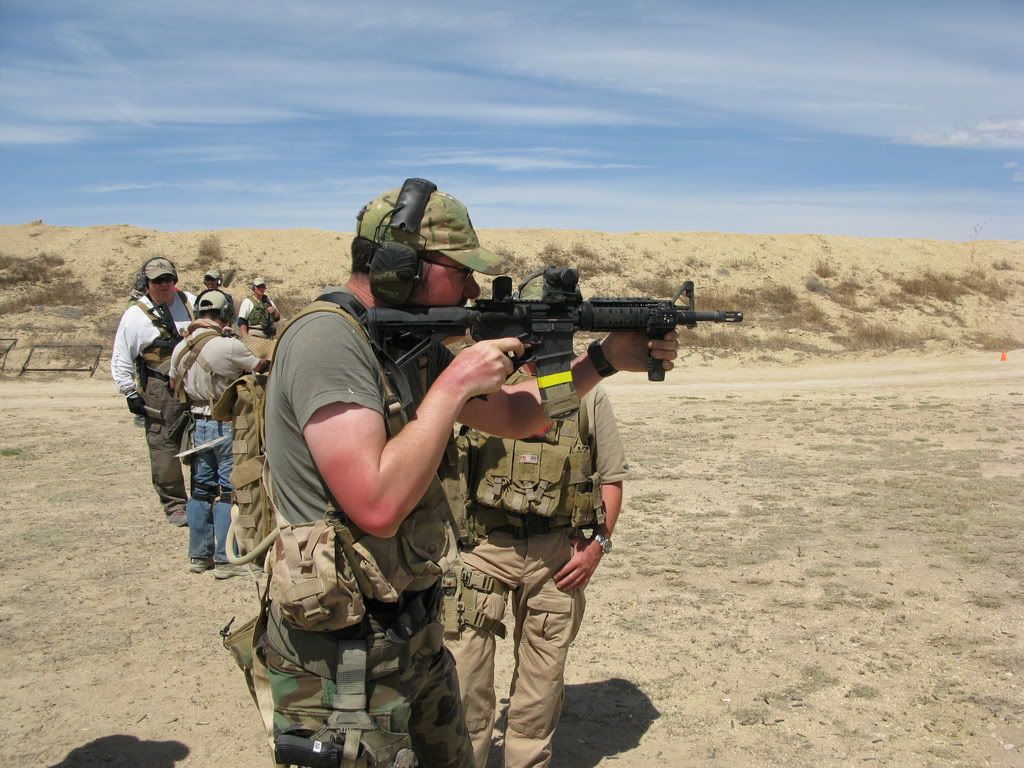 I shot the entire day using the RPAV. The system was extremely comfortable. I was impressed with it enough that I will be purchasing one out of pocket for work.
Training Day 3
High temp for the day was just over 90 degrees.
As we did the two days prior we started off the day at 50 yards re-confirming zeros. We then moved onto warm up drills, Modified Navy Qual (graded), Qual x2.
Unfortunately on Training Day 3, we lost 3 shooters. Jerod (HK Rep), the Air Force LT Col, and the Mad Scientist had to pop smoke (for work, family, or health related reasons) and were unable to attend the last day of class.
The day was hot and the training was outstanding.
Observations and Lessons learned:
-The Noveske N4 low profile was extremely reliable. Not a single malfunction before, after, or during the class. Round count is approximately 1,500 rounds at the time of this AAR.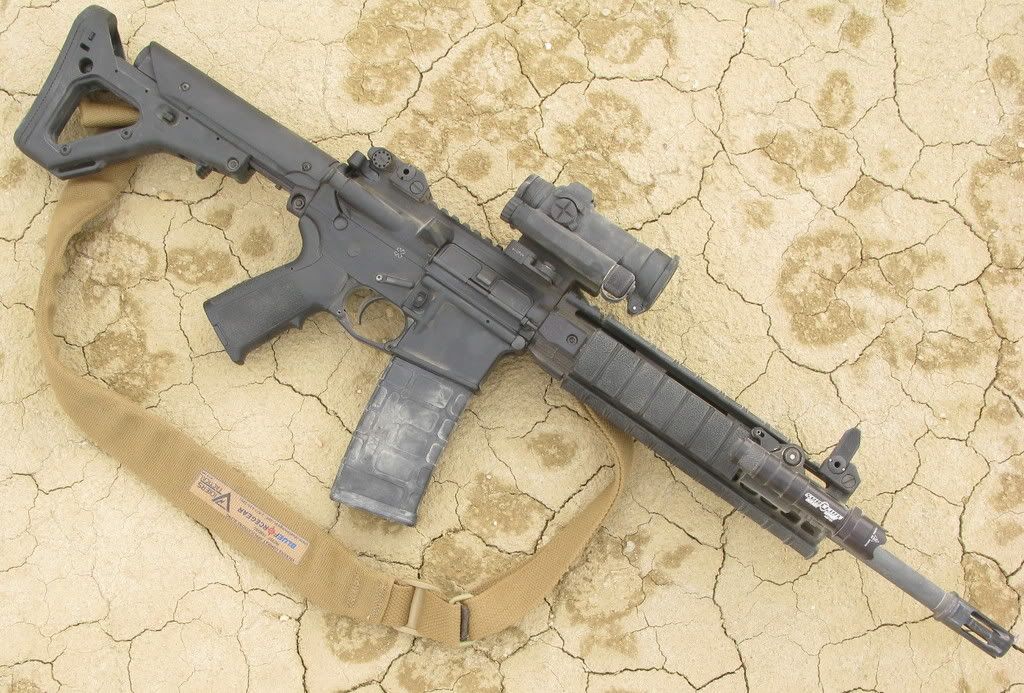 -I was extremely impressed with the Aimpoint M4S in the LaRue Tactical Comp M4 mount. I have both the M4 and the M4S. I prefer the lower profile of the M4S. I've been running Aimpoints exclusively since the late 90's.
-Magpul P-MAGs: The high mountain desert sand and dust got into everything. I didn't witness or hear of anyone having a problem with the Magpul P-MAGS.
I have been running P-MAGs exclusively since I first received a few in a training class last Sept. 2007.
I have used nothing but P-MAGs in the class and they were all numbered. I tried to run #1 - #6 as much as possible to see if I could get them to develop problems. I ran P-MAGs #1 - #6 for approximately 90% of the class and didn't have a problem with any of the mags. The P-MAGs were constantly being dropped in the fine sand (reloads, etc), they were stepped on, and abused. I was impressed by the performance of the P-MAGs. As I was unloading my gear on Monday night at the end of class, I could hear dirt and debris that is still inside some of the mags: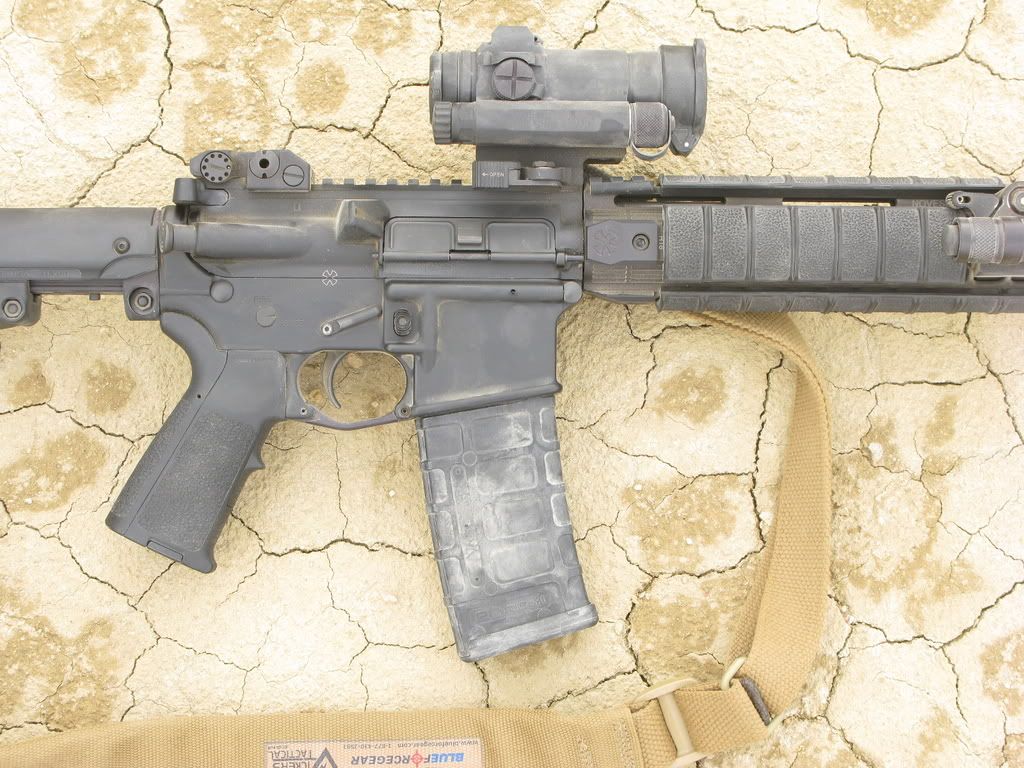 -Blue Force Gear Vickers (VCAS) sling (padded version). I have been running the VCAS slings for just over 2 years. Awesome design. Initially I didn't think there was much utility in a padded version, but after using one for the last couple months, I'm in the process of upgrading all my VCAS slings to the padded version.
-Magpul UBR. I was a big fan of the Magpul MSS (M93) even before it was a firing prototype. Richard Fitzpatrick and the crew at Magpul took the lessons learned from the M93 and developed the UBR. The stock was delivered on Saturday (TD1) while I was in class, and Mike O. and I installed in that night (we had some other gun plumbing projects to take care of, so we installed the UBR on the N4). I ran the UBR on TD2 and TD3. I was very impressed at the ergonomics and features of the UBR. I had zero issues with dirt, dust, and debris effecting the functioning of the stock. Top shelf product, I'll definitely be getting a few more.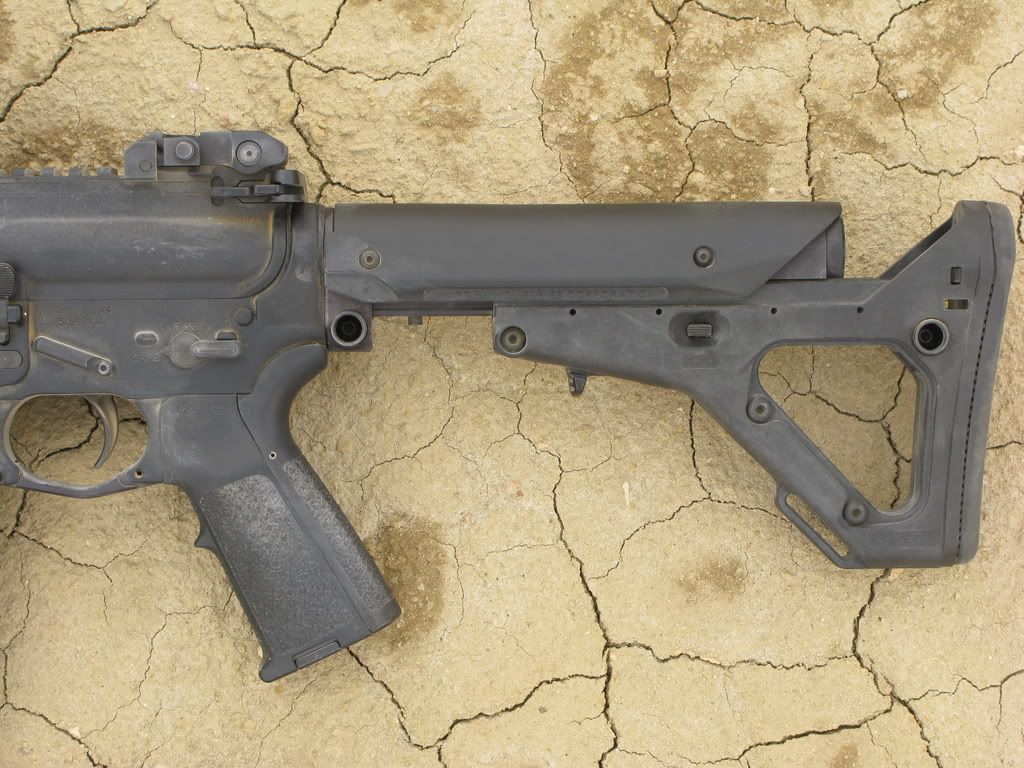 -Diz's custom made rig. Worked perfectly. I had zero issues with Diz's rig. Well thought out, well executed, quality gear from a quality individual. What more can be said: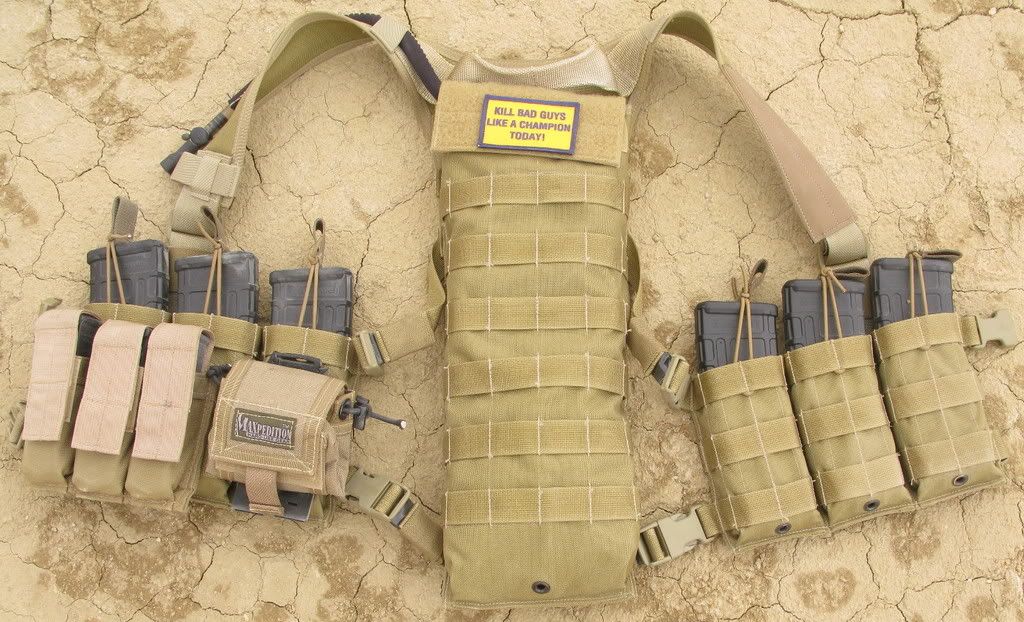 -Pat Rogers and Assistant Instructor Michael Hueser. Good dudes, very knowledgeable, very professional, outstanding instructors. Can't say enough good things about them.

-I didn't shoot as well this year as I did last year (2nd high shooter in the class in 2007).
I did fair, just not up to my usual standard.
I don't know what to attribute this to. Maybe I shoot better at closer distances with the vertical foregrip, maybe my game wasn't on, who knows...it's too early to tell. As I stated earlier, 2008 is a year that I'm changing things up and see what does and what doesn't work for me. As I train more, I'll figure out if dumping the vertical foregrip was a good idea or not.
As the host of this class I would like to start off by giving a big THANKS to Rich Fitzpatrick, Drake Clark, and the awesome crew at Magpul Corp. Each student was given a free Magpul P-MAG.
I would also like to thank LaRue Tactical, Bravo Company USA, Primary Weapons (PWS), Vicking Tactics, Tango Down, Sprinco, Camelbak, and Blue Force Gear for supporting the class and providing products that were awarded to high shooters in different events.

We had a great group of shooters.
Some pictures from the class:
Pat getting some trigger time in with relay 1
: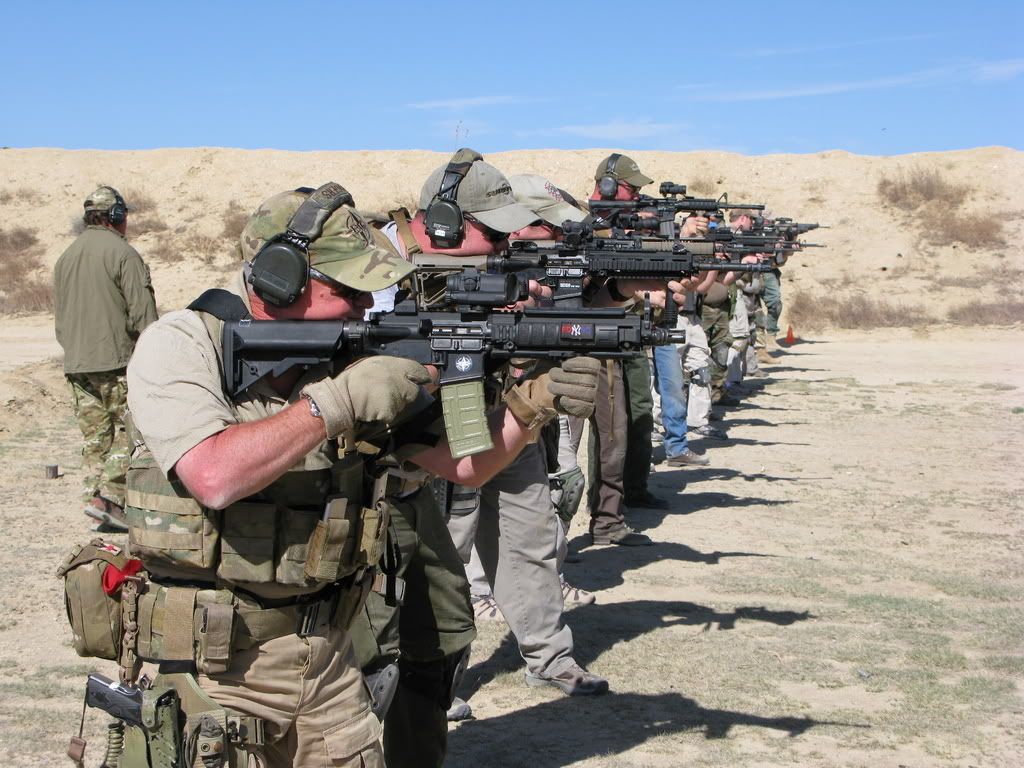 Mike working the LMT 10.5" with PWS comp:

Letting brass fly, while another shooter looks on in the background:

Rob layin' down some pain from the prone: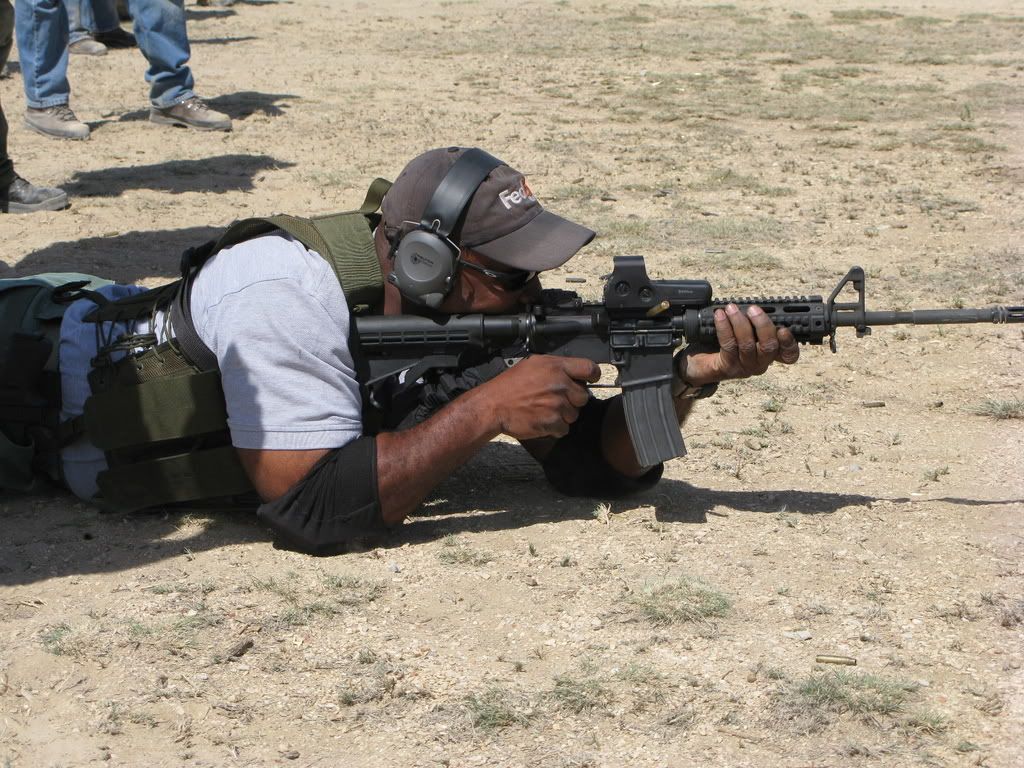 Gettin' busy from position Monica: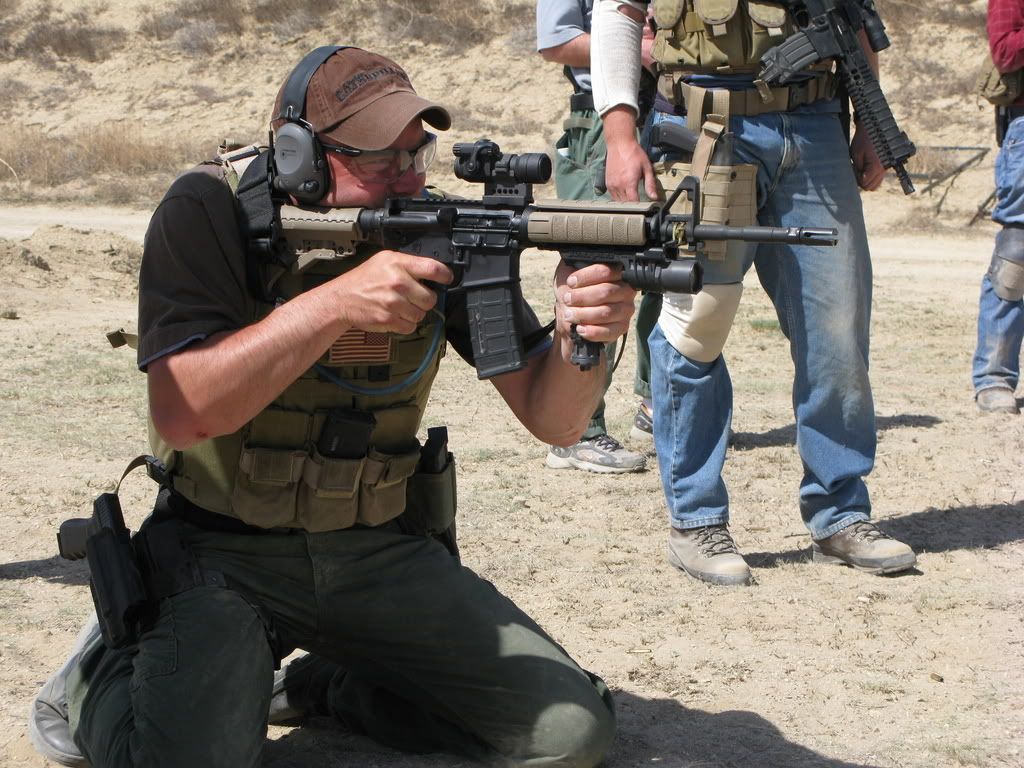 Doc Jay without the RX pad:

Darrin efficiently changing mags on an inferior platform....but he ran it well: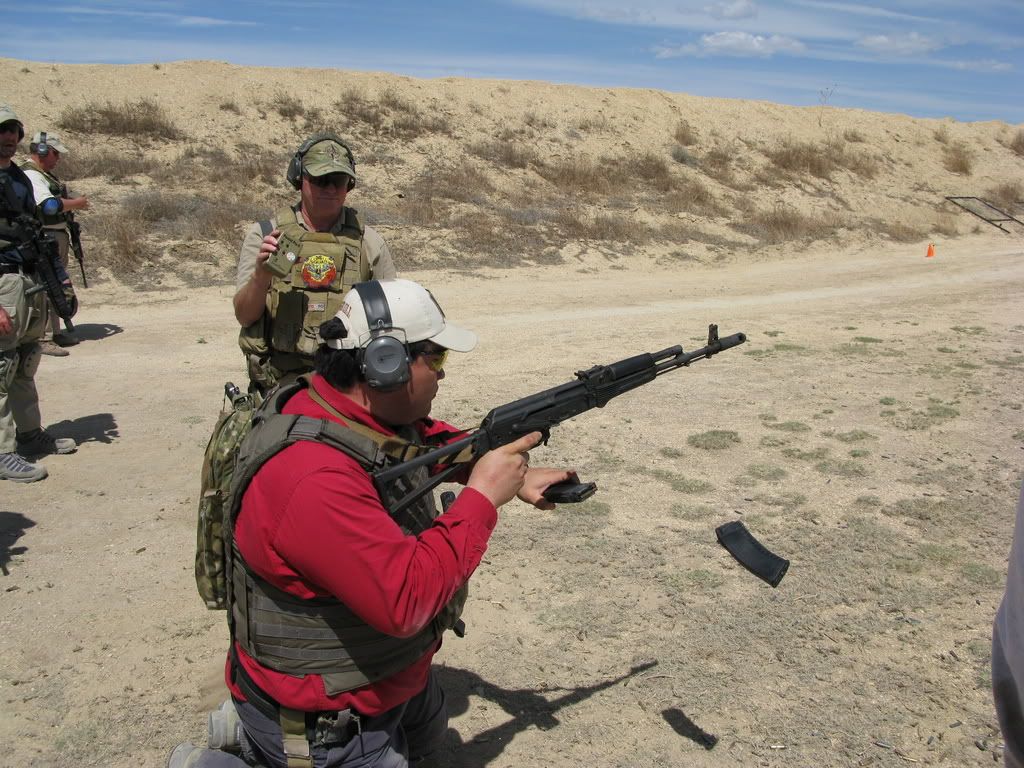 Jeromy layin down the law with some German authority (HK416):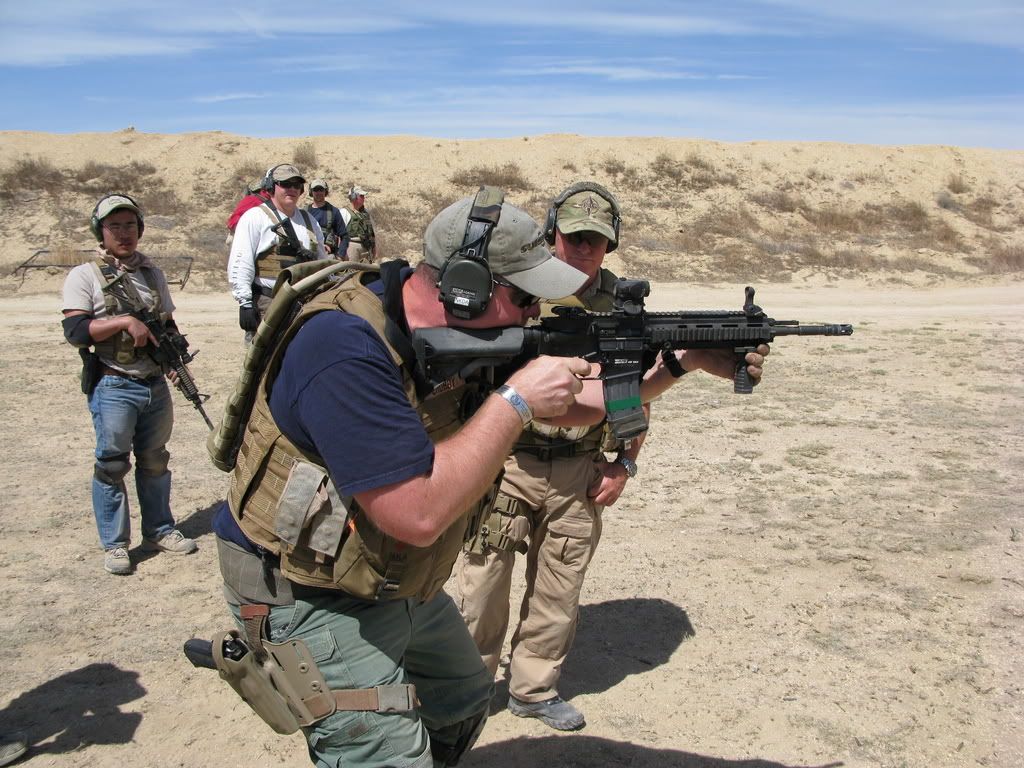 Me working out the Novekse N4 low profile carbine and trying to give Mike (behind the camera) a brass shower: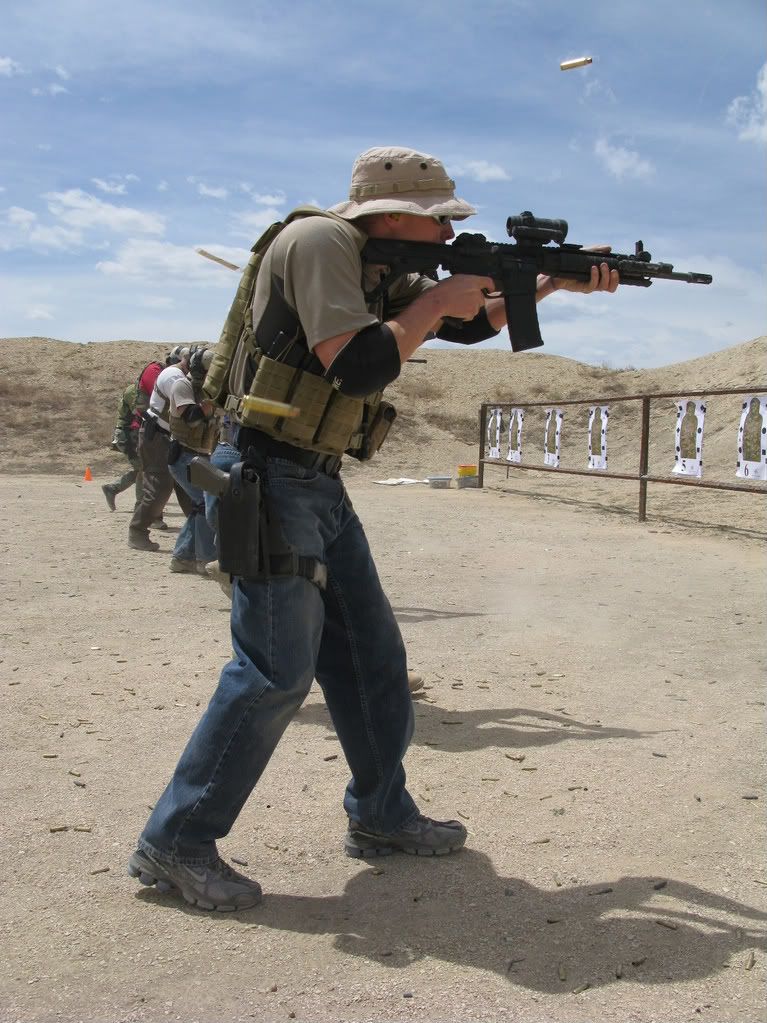 If this AAR has done anything, I hope that it has motivated a few people who read it to get out and train. Never be afraid to get out and try something new.